OrthoGraph Building Survey System
Choose your App from the OrthoGraph Survey System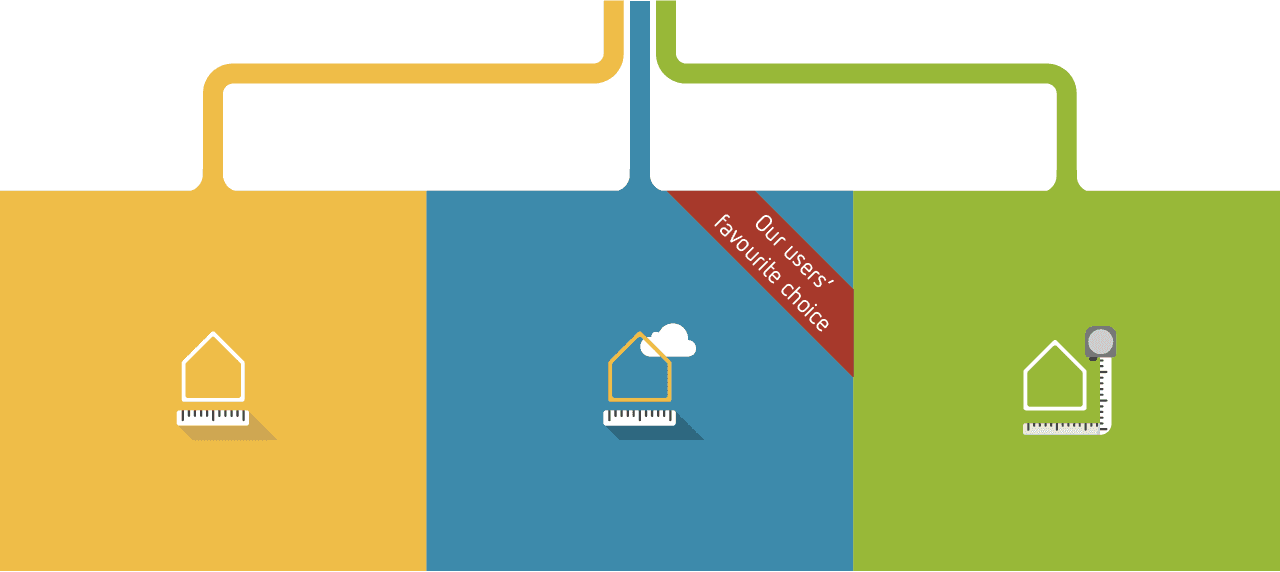 OrthoGraph Floor Plan is an application for highly precise and professional surveying jobs without the benefits of OrthoGraph's Cloud functionality.
OrthoGraph Cloud Client provides a full scale of mobile survey functionality paired up with the benefits of cloud services in one app.
OrthoGraph Tape Measure is an easy-to-use App supporting on site floor plan survey and reporting of small flats, homes.
OrthoGraph Floor Plan is the perfect tool for creating professional and highly precise surveys. It was designed for professionals who need to measure high number of locations inside a building with varying wall thicknesses. This application is available in the AppStore, and in certain countries it can be obtained under the name Bimtab.
OrthoGraph Cloud Client is an application in the AppStore connected to the OrthoGraph Cloud Services. This client application, depending on the subscription or license you purchase, provides all OrthoGraph Survey System functionality including professional building survey functionality on-site and cloud functionality.
OrthoGraph Tape Measure is an easy-to-use application for small projects. This is the best choice for craftsmen who want to measure and get calculations on site. This app was created for surveying normal houses and flats, containing up to 10 rooms/project with fixed wall-thickness – with no limitation on the amount of projects. Download it from the AppStore now!
Any version you choose will help you to be a rapid building surveyor: benefit from the unique sketch recognition functionality, measure wall lengths and diagonals, use curved walls, doors & windows, furniture and many more…
OrthoGraph Survey System - available licences
Product name
OrthoGraph Floor Plan Licence
OrthoGraph Cloud Pro Subscription
OrthoGraph Cloud Business Subscription
OrthoGraph Cloud Employee Subscription
OrthoGraph Tape Measure Licence
Pricing
$599.99 /license
$44.99 /license/mo.
$99.99 /license/mo.
$44.99 /license/mo.
$34.99 /license

Buy it here

Buy it here

Buy it here

Required app
OrthoGraph Floorplan
OrthoGraph Cloud Client
OrthoGraph Cloud Client
OrthoGraph Cloud Client
OrthoGraph Tape Measure
Core functionality - Surveying
Sketch Rooms individually
Sketch & Tap – full floor plans simply
Measuring – walls, openings, diagonals
Element properties with camera, GPS etc.
Customizable BIM properties
Supporting hotspots
Bend/unbend walls
Handling objects
Label functionality
Redlining/Annotation functionality
Cloud Access
On-siteSurface/Area/Perimeter reports
Dropbox, Box, E-mail integration
Full 3D functionality
Unlimited number of projects
Number of rooms per project limited to
unlimited
unlimited
unlimited
unlimited
10
Location structure & multi-story buildings
Wall thickness can be set to
any
any
any
any
0.1m
Floating islands
Background image
Premium support / online training
Per Purchase
Per Purchase
Per Purchase
Leica/Bosch Support
Cloud
Cloud Projects Unlimited
Limited to store up to 2 projects
Can create own folders - Cloud
Can create shared folders - Cloud
Can buy Employee License
Teamwork - Merge/Split projects
Exports
.JPG/.PNG Exports
PDF Roombook
DXF Export
IFC Export
SRVD - transfer to ArchiCAD
Purchase Add-on
Purchase Add-on
Purchase Add-on
Purchase Add-on
Purchase Add-on
Paste your AdWords Remarketing code here

By continuing to use the site, you agree to the use of cookies. more information

The cookie settings on this website are set to "allow cookies" to give you the best browsing experience possible. If you continue to use this website without changing your cookie settings or you click "Accept" below then you are consenting to this.